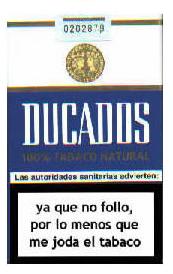 Even it seems not possible, after more than 10years smoking in all kind of situations all over the world( not so...), i decided to give up smoking and i got it since last march the 1st 2006.
It's being a nice experience, even it is a hard decision. I am doing much more sport, I feel better(,,,)and I put no weight on!!!
COME ON,JOIN THE HEALTHY TEAM, YOU CAN....
Remember you also have to give up smoking " the others", so take a receipt-book of how to make cookies, and so. I am trying to do so... "the secret is always in the butter" told me a friend of mine living in the Netherlands( original from an alpin country....).
( I have to confess that I am nervous about the moment of the cigarrette " after"... what will happen?)